About Yaa Asantewaa - Page 1
The life of a great African queen! Ever remembered!
Advertisement
---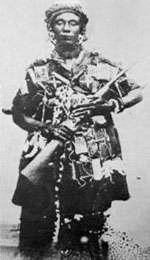 Yaa Asantewaa
(c. 1840 – 17 October 1921) (pronounced YAA A-san-TE-WAA) was appointed queen mother of Ejisu of the Ashanti Empire—now part of modern-day Ghana—by her brother Nana Akwasi Afrane Okpese, the Ejisuhene "ruler of Ejisu". In 1900 she led the Ashanti rebellion known as the War of the Golden Stool against British colonialism.
Prelude to rebellion
During her brother's reign, Yaa Asantewaa saw the Asante Confederacy go through a series of events that threatened its future, including civil war from 1883 to 1888. When her brother died in 1894, Yaa Asantewaa used her right as Queen Mother to nominate her own grandson as Ejisuhene. When the British exiled him in the Seychelles in 1896, along with the King of Asante Prempeh I and other members of the Asante government, Yaa Asantewaa became regent of the Ejisu-Juaben District. After the deportation of Prempeh I, the British governor-general of the Gold Coast, Frederick Hodgson, demanded the Golden Stool, the symbol of the Asante nation. This request led to a secret meeting of the remaining members of the Asante government at Kumasi, to discuss how to secure the return of their king.
There was a disagreement among those present on how to go about this. Yaa Asantewaa, who was present at this meeting, stood and addressed the members of the council with these now-famous words:
Now I see that some of you fear to go forward to fight for our king. If it [was] in the brave days of Osei Tutu, Okomfo Anokye, and Opoku Ware, chiefs would not sit down to see their king to be taken away without firing a shot. No European could have dared speak to chiefs of Asante in the way the governor spoke to you this morning. Is it true that the bravery of Asante is no more? I cannot believe it. It cannot be! I must say this: if you, the men of Asante, will not go forward, then we will. We, the women, will. I shall call upon my fellow women. We will fight! We will fight till the last of us falls in the battlefields."
With this, she took on leadership of the Asante Uprising of 1900, gaining the support of some of the other Asante nobility.
- Next -
---
---
Advertisement