About Yaa Asantewaa - Page 3
A Queen - A Place In History!
Advertisement
---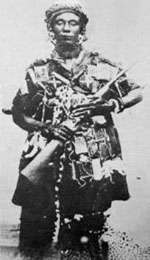 Yaa Asantewaa
(c. 1840 – 17 October 1921) (pronounced YAA A-san-TE-WAA) was appointed queen mother of Ejisu of the Ashanti Empire—now part of modern-day Ghana—by her brother Nana Akwasi Afrane Okpese, the Ejisuhene "ruler of Ejisu". In 1900 she led the Ashanti rebellion known as the War of the Golden Stool against British colonialism.
Place in history and cultural legacy
Yaa Asantewaa remains a much-loved figure in Asante history and the history of Ghana as a whole for the courage she showed in confronting injustice during the colonialism of the British. To highlight the importance of encouraging more female leaders in Ghanaian society, the Yaa Asantewaa Girls' Secondary School was established at Kumasi in 1960 with funds from the Ghana Educational Trust.
In 2000, week-long centenary celebrations were held in Ghana to acknowledge Yaa Asantewaa's accomplishments. As part of these celebrations, a museum was dedicated to her at Kwaso in the Ejisu-Juaben District on 3 August 2000. Unfortunately, a fire there on 23 July 2004, destroyed several historical items, including her sandals and battle dress (batakarikese) seen in the photograph above.
The current Queen-mother of Ejisu is Yaa Asantewaa II. A second Yaa Asantewaa festival was held 1–5 August 2006, in Ejisu.
The Yaa Asantewaa Centre in Maida Vale, west London, is African-Caribbean arts and community centre.
A stage show written by Margaret Busby, Yaa Asantewaa: Warrior Queen, featuring master drummer Kofi Ghanaba and with a pan-African cast, toured the UK and Ghana in 2001-2001.
- About - Page 1 -
---
---
Advertisement