About Yaa Asantewaa - Page 2
Africa`s Great Queen - The Life
Advertisement
---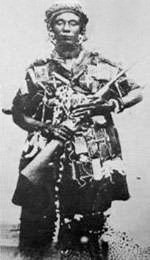 Yaa Asantewaa
(c. 1840 – 17 October 1921) (pronounced YAA A-san-TE-WAA) was appointed queen mother of Ejisu of the Ashanti Empire—now part of modern-day Ghana—by her brother Nana Akwasi Afrane Okpese, the Ejisuhene "ruler of Ejisu". In 1900 she led the Ashanti rebellion known as the War of the Golden Stool against British colonialism.
The rebellion and its aftermath
Beginning in March 1900, the rebellion laid siege to the fort at Kumasi where the British had sought refuge. The fort still stands today as the Kumasi Fort and Military Museum. After several months, the Gold Coast governor eventually sent a force of 1,400 to quell the rebellion. During the course of this, Queen Yaa Asantewaa and 15 of her closest advisers were captured, and they too were sent into exile to the Seychelles. The rebellion represented the final war in the Anglo-Asante series of wars that lasted throughout the 19th century. On 1 January 1902, the British were finally able to accomplish what the Asante army had denied them for almost a century, and the Asante empire was made a protectorate of the British crown.
Yaa Asantewaa died in exile on 17 October 1921. Three years after her death, on 27 December 1924, Prempeh I and the other remaining members of the exiled Asante court were allowed to return to Asante. Prempeh I made sure that the remains of Yaa Asantewaa and the other exiled Asantes were returned for a proper royal burial. Yaa Asantewaa's dream for an Asante free of British rule was realized on 6 March 1957, when the Asante protectorate gained independence as part of Ghana, the first African nation to achieve this feat.
.
- Next -
---
---
Advertisement